Instead of expecting prospective nurses to sell you on why they're a great hire, try flipping the script.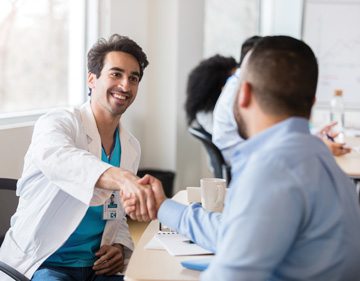 With the healthcare industry in the throes of a nationwide staffing crisis, nurses and techs have more power than ever over where they hang their scrubs. Savvy facilities have adapted to this dynamic by giving their hiring practices a major overhaul. One increasingly used strategy is to "screen in" talent by virtually switching places with candidates that facilities want to bring on board.
"I've learned the common recruiting practice of 'screening out' or eliminating candidates strictly based on their resume and experience, without allowing them to interview, is no longer the most advantageous way to hire," says Andréa Venezio, CEO of Sapphire Health Group in Lewisville, Texas. "In today's job market, you'll have much more luck 'screening in' the right staff."
She says that because jobseekers currently have such freedom of choice in finding their ideal place to work, ASC leaders and hiring managers are best served by using the interview process not as a way to filter out candidates, but as a means of showing them exactly why they should choose your facility over their many other options.
Ms. Venezio says one simple question goes a long way toward screening in a candidate: "Where was the best place you've worked and why did you enjoy working there?" The response will give you a clearer picture of the candidate's ideal working environment, which you can use to offer examples of how your facility's culture matches what they desire.
Ms. Venezio says that painting a specific picture of the new job gives the candidate the ability to see themselves in that role. "By telling them how their life would look working at your facility, they'll be more likely to visualize that future themselves," she says.