Could yours be the 15th?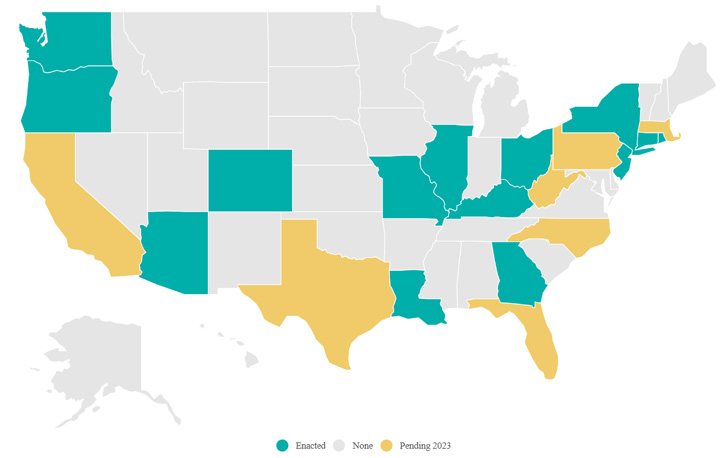 At the beginning of 2021, only two U.S. states had enacted legislation mandating the use of smoke evacuation systems in every OR for every smoke-producing procedure. The addition of a dozen additional states over the last two years exemplifies the huge impact that concerned perioperative nurses and other staff are making in statehouses across the country, buttressed by a strong educational and advocacy push from members of the Association of periOperative Registered Nurses (AORN).
The 14 states that have enacted surgical smoke evacuation legislation are Arizona, Colorado, Connecticut, Georgia, Illinois, Kentucky, Louisiana, Missouri, New Jersey, New York, Ohio, Oregon, Rhode Island and Washington. However, bills remain pending this year in seven additional states: California, Florida, Massachusetts, Pennsylvania, North Carolina, Texas and West Virginia, says AORN Associate Director of Government Affairs Jennifer Pennock, who has worked tirelessly to get smoke evacuation bills over the finish line in every state.
Why all of this effort? Simply put, inhaling surgical smoke, which is full of toxic materials, is dangerous to OR staff and patients and can produce long-term health problems, including respiratory issues. The good news is that the voices of everyone who works at surgical facilities are being heard. If you work in a state that still hasn't passed a surgical smoke evacuation bill, you can help make a difference.
"For years, AORN has worked on the issue of surgical smoke at the policy and facility levels," says AORN CEO and Executive Director Linda Groah, MSN, RN, CNOR, NEA-BC, FAAN. "AORN members across the country are working to enact state laws to ensure harmful surgical smoke is evacuated from every operating room to protect their health and safety."
While laws that mandate surgical smoke evacuation are obviously helpful, individual facilities in all states can take their own initiative to make their ORs smoke-free. Ms. Groah and Ms. Pennock say that hundreds of facilities nationwide have done just that through AORN's Go Clear Program.
"I urge AORN members to focus on this issue locally," says Ms. Groah. "Get involved in AORN's advocacy efforts to go surgical smoke-free, and join the hundreds of facilities nationwide working toward their own Go Clear Awards."