Planning a new surgery center requires clear goals and inclusive collaboration to optimize success.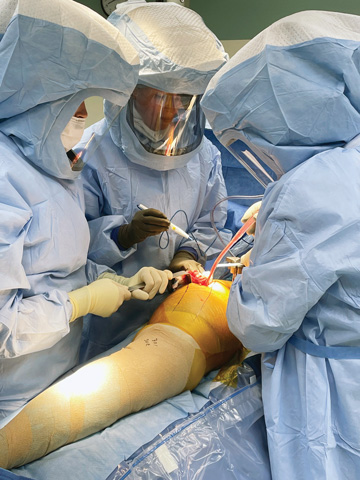 A decade ago, Taylor Cera, MBA, chief operating officer at Youngstown (Ohio) Orthopaedic Associates and The Orthopaedic Surgery Center, and his business partner wrote out some goals on a sheet of paper. A decade later, all of those goals have been achieved.
"We've recruited and hired an array of fellowship-trained musculoskeletal (MSK) surgeons, we've built and launched a state-of-the-art ASC, and now we will be connecting that surgery center to a 36,000-square-foot MSK office building, forming the first MSK-only campus in the county," he says. "We've also endured many failures along the way, but regardless of the scope of those failures, our vision has remained constant."
For the past decade, Mr. Cera has witnessed and benefitted from the unceasing, ever-increasing stream of surgeries flowing from inpatient hospitals to outpatient facilities, and the resulting cost savings that have come with it for the healthcare system. He believes ASCs will only continue to grow in importance in the American healthcare system, while becoming even more lucrative for owners who continue to innovate and push the industry forward.
"With individuals being asked to shoulder more of the financial responsibility for their medical care, they are increasingly turning to surgery centers for help," he says. "Payers, too, are increasingly recognizing the many benefits of the efficient surgical care that facility leaders have been broadcasting for years. Through strong data analytics, the cost savings and quality care that ASCs provide are becoming undeniable."
Mr. Cera says payers and ASCs now better understand each other's needs and are increasingly aligned in their missions. "More than ever before, payers are open to transparent discussions about how to drive value," he says, adding that technological advances in anesthesia and pain control techniques, along with innovative equipment such as surgical robots, are consistently driving improved efficiency and creating even more value for ASCs. "Creative relationships with industry partners now allow those of us in the ASC space to acquire technology like robotic platforms that previously had only been available to major hospitals," he notes.
He says a big key to success for owners and leaders when planning and building a new ASC is to avoid the trap of thinking you know what you don't actually know. "There are countless opportunities for visionary leaders to capitalize on growth in the surgery center sector if they have the humility to admit they don't have all the answers," says Mr. Cera.
Another key, he says, is to respect, inspire and communicate clearly with everyone on your team. That feedback can refine your vision for a new center in positive ways, and lead to innovations that in many cases wouldn't otherwise be conceived. "It's one thing to have a vision of what your center can become, but it's something else entirely to bring that vision to fruition," says Mr. Cera. "Such an undertaking requires the unique perspective, expertise and respect of everyone on the team."
Mr. Cera can't wait for the next 10 years of his journey. "It's a future of limitless possibility," he says.