In the Spirit of Giving
By: Aorn Staff
Published: 4/6/2022
Share:
In the Spirit of Giving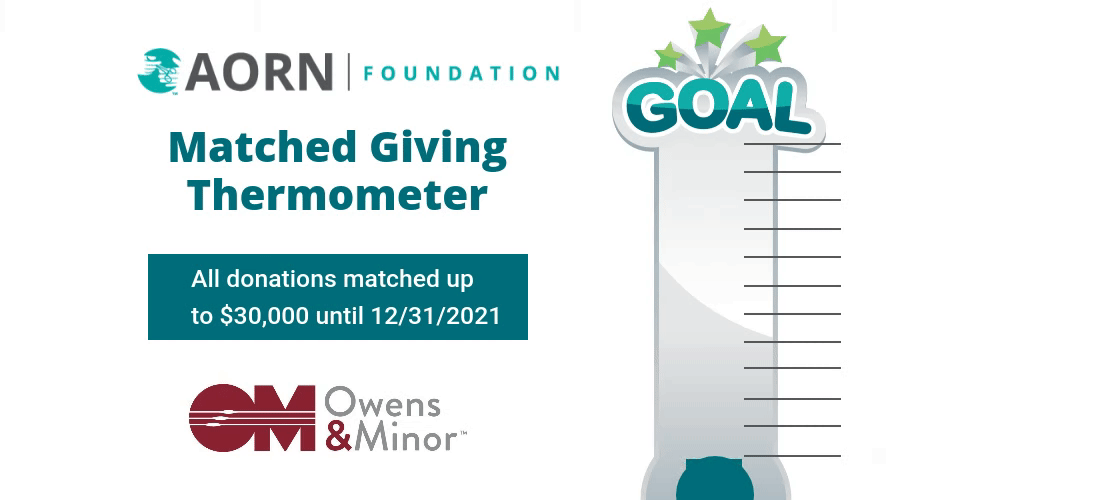 December 8, 2021
Through the ongoing pandemic and historic staffing shortage, perioperative nurses are still there every day for every patient, and they need industry support more than ever, according to Alex Hodges, vice president of Global Products Strategy & Marketing for Owens & Minor and vice president of the AORN Foundation Board of Trustees.
"It's critically important that industry leaders like Owens & Minor honor and support the educational needs of perioperative nurses who are on the frontlines to keep patients and staff safe through these unprecedented times," Hodges shares.
Owens & Minor, a global healthcare solutions company that incorporates product manufacturing, distribution support and innovative technology services—with an expertise and focus on the perioperative space—is known for its longstanding financial support to the AORN Foundation. For more than 10 years the company has donated to the Foundation's annual year-end campaign by matching up to $20,000 of donations. This year they upped their year-end match to $30,000, in timing with the AORN Foundation's 30th anniversary.
"We decided to increase our year-end match donation in celebration of nurses' absolute dedication to their practice," Hodges adds. "We know every donation makes a difference for a nurse seeking education to keep up with ever-changing challenges and advancements in providing safe surgery."
Why Giving Matters
In 1991, the AORN Foundation was created as the non-profit philanthropic arm of AORN, to support nurses through education, research, and patient safety initiatives. Over the past thirty years, generous donations have enabled the Foundation to help tens of thousands of nurses achieve professional goals through a number of funding opportunities, including 2,000 academic scholarships totaling more than $3,500,000. These scholarships were made possible with the help of individuals, chapters, corporations and AORN and have helped nurses in all phases of their professional development—from earning their first degree to completing a DNP.
Other educational support from Foundation donations has supported:
professional development grants,
patient safety tool kits and webinars,
seminars for nurse education, and
evidence-based research.
In 2020 alone, over $1.9 million in donations contributed directly to funding 76 academic scholarships for bachelor's, master's, and doctoral nursing students, providing 29 virtual education events, 2,063 membership grants, and 114 certification grants.
Every donation counts and anyone can support the AORN Foundation. The holiday season is a perfect time to give the gift of knowledge with a donation in honor of your favorite perioperative nurse. Donations can also be made through your chapter, facility, or company.
All donations made by Dec. 31, 2021, will go toward the Owens & Minor year-end match to reach $30,000.