COVID-19 Resources
Updated Clinical Information to Support Nurses & Healthcare Teams During COVID-19 Pandemic
These resources provide education and support the measures frontline healthcare teams should be taking to keep themselves and their patients safe from infection transmission.
The most recent recommendations for vaccine administration can be found on the CDC website:
AORN's COVID-19 FAQs are updated as recommendations change.
What We Have Learned from (COVID-19)
After 20 months caring for COVID-19 patients, how are we using lessons learned to clarify myths and manage the powerful, more transmissible variants?
For safely managing all patients, and protecting staff, AORN perioperative and infection prevention experts have compiled a new comprehensive Perioperative Care of the COVID-19 Patient.
Perioperative Care of the COVID-19 Patient is a comprehensive collection of information that answers the most important questions of nurses taking care of suspected or positive COVID-19 patients. It covers leadership actions and responsibilities, PPE, scheduling, preoperative assessment and testing, the operating room, postoperative care, environmental cleaning, sterilization and self-care.
The playbook is free to subscribers of eGuidelines Plus, which is AORN's online platform for the most current Guidelines for Perioperative Practice and hundreds of implementation and clinical tools. Resources include Guideline Quick Views, Policy & Procedure Templates, customizable Competency Verification Tools, Key Takeaways, Case Studies and much more.
UPDATED evidence-based COVID-19 recommendations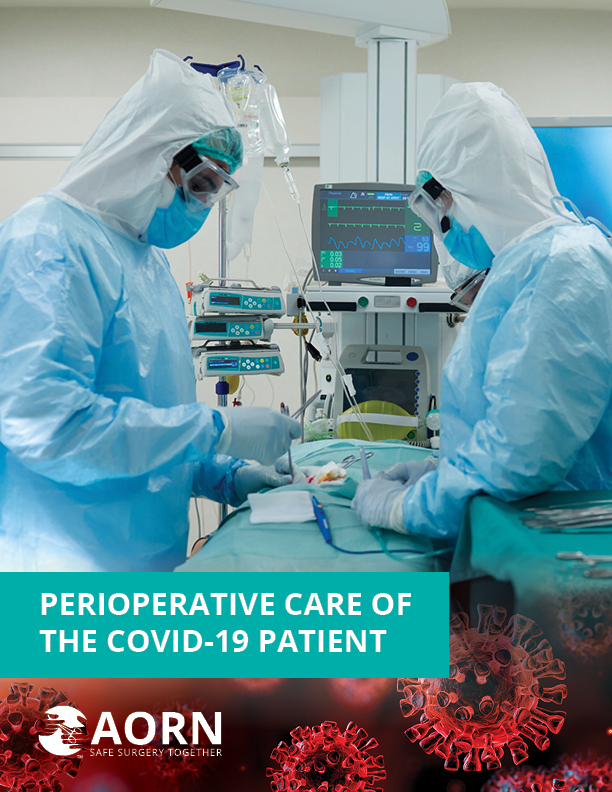 Purchase a 6-month stand-alone subscription to Perioperative Care of the COVID-19 Patient.
COVID-19 Questions?
Call Tuesdays, 9:00 am - 1:00 pm, MT, (800) 755-2676.
First COVID-19 Vaccine Recipient
Donning and Doffing
From Nebraska Medicine
Essential COVID-19 Clinical Tools and Resources
Essential COVID-19 Clinical Tools and Resources
AORN Journal
Read these and more here