Guidelines for Perioperative Practice
Guidelines for Perioperative Practice
Guidelines for Perioperative Practice
Safe Surgery Together
AORN's Guidelines for Perioperative Practice are the gold-standard in evidence-based recommendations to deliver safe perioperative patient care and achieve workplace safety.
Get Online Access to AORN Guidelines for Your Entire Facility
eGuidelines Plus is an online facility subscription providing access to the most current AORN Guidelines for Perioperative Practice complete with tools, customizable templates and resources to empower your team to apply standardized techniques facility-wide.
Guideline Essentials: Download tools, road maps, case studies, and presentations for each of the Guidelines for Perioperative Practice. Share the informational videos with staff to ease implementation. Available for AORN members.
2023 Newly Updated Guidelines:
Flexible Endoscopes
Information Management
Positioning the Patient
Product Evaluation
Hand Hygiene
Minimally Invasive Surgery
Pressure Injury Prevention
Venous Thromboembolism
Choose the Best Format for Your Team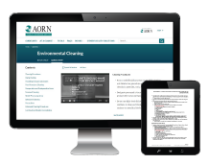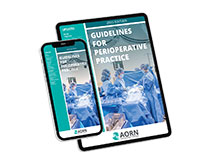 Guideline Development Information
Guideline Infographic
This infographic explains how an AORN guideline is created. This easy-to-read reference can be used as a handy reference tool for your entire perioperative team.
Download Infographic
AORN's Evidence Model
Learn how AORN's evidence model ensures clinical decisions are based on the latest research. Many state health organizations and accreditation bodies refer to AORN's Guidelines in annual surveys.
Learn More
Public Commenting
Get involved with the publication of guidelines through the public commenting process. Comments are reviewed by the guideline author(s) and considered for inclusion.
View Public Commenting
Guideline Implementation Resources