Guidelines for Perioperative Practice
Guidelines for Perioperative Practice
Safe Surgery Together
AORN's Guidelines for Perioperative Practice are the gold-standard in evidence-based recommendations to deliver safe perioperative patient care and achieve workplace safety.
Online Access to the Guidelines for Your Entire Facility
eGuidelines Plus is an online facility subscription providing access to the most current AORN Guidelines for Perioperative Practice complete with tools, customizable templates and resources to empower your team to apply standardized techniques facility-wide.
2024 Newly Updated Guidelines:
Medication Safety
Design and Maintenance of the Surgical Suite
Manual High-Level Disinfection
Safe Environment of Care
Team Communication
Safe Patient Handling and Movement
Get the Guidelines in Every Format
Pre-order the 2024 Guidelines print book and eBook today and save – prices increase January 1, 2024.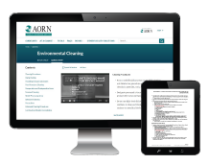 Access to the guidelines plus 100s of tools that serve as the building blocks to implementing the guidelines facility-wide.
The foundational hard copy source of evidence-based perioperative guidelines needed in every OR.
2023 Print Book SOLD OUT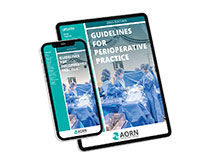 Get all the same content as the print book on your mobile device or tablet.
How the Guidelines are Developed
Guideline Education Resources
AORN's Knowledge Assessment is an online evaluation designed to identify the knowledge gaps of experienced nurses and travelers.